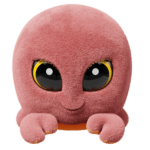 Carla the Crab
Carlos the Crab
1.00 zł
Restaurant owner

!

Carlos the Crab is the great master of flavour and the owner of a restaurant where all the flavours dance to the music, and the food is like a work of art, cheering up every palate. He is also a fearless collector of mugs. His eyes glow like bubbles in the sea when they fix upon a new, colourful mug.

He has his own restaurant

He collects mugs and tableware

He likes colorful food
Crabs can walk both on the sea floor and on land. They have special limbs to help them move around in both environments.

Crabs have various senses, including well-developed senses of sight and smell. They can detect light, movement and chemical substances in their surroundings.

Some crab species, such as the coconut crab, can open coconuts with their claws.